We were happy to hear that the Governor has approved the KY State Fair to occur in August. This is a strong indication that we WILL BE ABLE TO HOST OUR FESTIVAL in August, with some modifications.
COVID-19 has had a major impact on our Holy Cross family. We PRAY for all those who have been affected, for all of our teachers and students, and for the brave men and women on the front lines keeping our community safe.
We PRAY also for the success of our festival and grand raffle which is a CRITICAL fund raiser for the school.
THANK YOU for your understanding and support of Holy Cross High School!
Holy Cross High School Annual Summer Festival
TASTE OF LATONIA, LIVE MUSIC, GAMING, BEER/WINE/BOURBON, AND KIDDIE LAND!
31st Holy Cross High School
Indian Summer Festival August 28 and 29, 2020
Festival opens at 6pm Friday and 5:30
Saturday and closes at 12 pm
Taste of Latonia! Live Music, Gaming, Beer/Wine/Bourbon & Kiddie Land
3 Early Bird Drawings: $250 June 5, July 10, and August 7
Main Prize drawing
Aug 29th at 11pm
Featuring Live Performances by: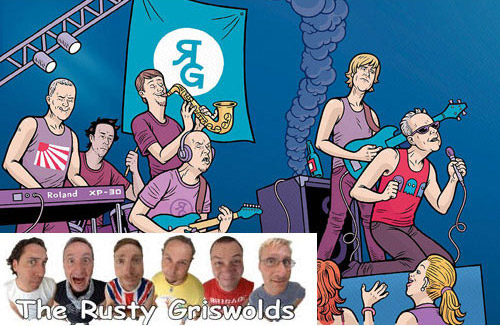 Friday August 28th
HC welcomes local favorite The Rusty Griswolds!

We continue our tradition this year of bringing in THE BEST REGIONAL bands, and Cincinnati's most sought after band the Rusty Griswolds return to Holy Cross! They are the ultimate 80's pop and rock experience voted "best band of the year" for 4 consecutive years! They interact with the crowd ensuring everyone has a GREAT time! The Rusty Griswolds have performed at all the top regional festivals such as Octoberfest Zinzinnati and Taste of Cincinnati! Don't miss this show!
Saturday August 29th
HC welcomes local favorite 3 Day Rule!
Holy Cross High School hosts an I LOVE THE 80's PARTY!
We encourage you to dress the part!! Prizes for best 80's dressed!! Have fun!! Holy Cross welcomes local favorite 3 Day Rule! They are a high energy act that will showcase their BEST OF THE 80's! You'll hear hits from Billy Idol, Bruce Springsteen, Bon Jovi, Journey, Michael Jackson and MANY MANY more. This will be a GREAT show!
Become a Vendor or SponsorWe welcome local vendors to participate and promote your business by featuring your best dishes!
Confirm early so your business can be included on various marketing/advertising leading up to the event. We coordinate to minimize duplicate food offerings.
If interested in joining the festival committee or being a food vendor in the 2020 Taste of Latonia, contact Cherri Pretty at cpretty@zoomtown.com
Food vendors who participated in the Taste of Latonia
Bard's Burgers
Buena Vita
Bourbon Tasting
Dada Smokes Barbeque
Dan the Corn Man
Deys Kettle Corn
Gregorios Bistro
Get Stuffed Pretzel
Guthrie's Chicken
Holy Cross Grill
Johnson Country Ham
Knight Donuts
Kona Ice
Original Wok
Whit's Frozen Custard